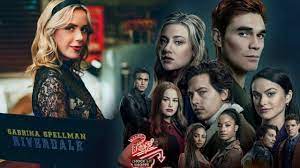 Riverdale Season 6 Episode 1 and 2: Full review, spoilers and Release dates.
Riverdale season 6 is finally out and the first episode already aired on 16th November 2021. This season has a total of 5 episodes. Riverdale is a series of Supernatural powers and very close to horror deaths that can lead anyone to get stuck in the middle of nowhere, finding answers.
The series is resuming where it left off in season 5th. The main spotlight was on the three couples Betty and Archie (Lili Reinhart and KJ Apa), Veronica with Reggie (Camila Mendes and Charles Melton), and Jughead with Tabitha (Cole Sprouse and Erinn Westbrook), and the last couple was Toni and Fangs (Vanessa Morgan and Drew Ray Tanner) raising their baby Anthony. 
Cheryl wants to bring back some pagan traditions, rituals, culture, and sacrifices that worship the Maple Maiden because he wants to restore Thornhill's dead maple trees. Cheryl also allured people for getting their desires for participation in the oblational ritual. To help Betty conceive, Cheryl uses remedies of pagans to get rid of the cursed bug in Jugs and the house of Tabitha's and cure Anthony's colic.
In the last scenes of the show, Cheryl stabs the main Riverdale hero and pulls his living pumping heart out very brutally, in front of the whole population of the town. It is clear that Archie's dead. But, nothing can be assumed because Riverdale directors could flip the stories in seconds.
In the second episode, the town is not exactly grieving him because the townspeople killed him. But because the town knows that they have sacrificed Archie. There is a scene in the episode where Cheryl and Nana are toasting Archie's sacrifice because now their problems got solved, their maple trees start producing syrup again. And betty is pregnant with Archie's love child.
As this was presumed that Archie wouldn't be the only death, we will see this season, and only in the first season do we come across the death of the main character Archie. We can expect more in the upcoming episodes. 
When to expect episode second?
The viewers were eagerly waiting for the launch of the episode second after the release of the episode first (released on 16th November 2021), which left the viewers in the big excitement of Archie's death. It is never to worry because the second episode is on air on 23rd November 2021 at 9 p.m. ET on The CW. According to the sources, the name of the second episode is 'Chapter Ninety-Seven: Ghost stories.'
Streaming Scenario
The viewers can always watch the show on Youtube TV. And the show is always available on The CW's official website. And Netflix and Amazon can not be left ever. It should now be obvious.