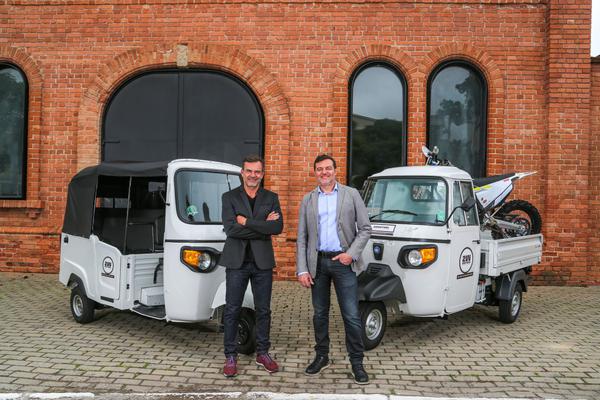 Piaggio tricycles arrive in Brazil by 2W Motors
The 2W Motors Group has a new brand in its portfolio: the commercial vehicles division of Piaggio in Brazil is now represented by the company commanded by the brothers Maurício Fernandes and Raul Fernandes Jr. Among the company's businesses are the imports of Husqvarna motorcycles for the Brazilian market, the two Royal Enfield dealerships in São Paulo and the businesses of Fantic Bikes and KTM Bikes in the country.
Negotiations with Piaggio Commercial Vehicles began two years ago, but were concluded at the end of 2020. "Our main focus at the moment is B2B, because they involve more significant volumes of the product, but that does not rule out the B2C audience. We are excited about the negotiations in this new market niche that 2W Motors will be operating from now on", explains Raul Fernandes Jr, managing partner of the group.
The Piaggio Apé tricycles are available in versions for cargo and passengers, and can be purchased with either a combustion engine or an electric one. According to 2W, prices range between R$35,000 and R$40,000, and there will also be units available for rent for events.
Read more:
BMW reports high sales and targets new segments in 2022 E01: See the first images of Yamaha's electric scooter Participate in the 23rd Moto de Ouro and compete for electric bikes!
"Both gasoline and electric models are a great option for companies that want to have their own fleet to optimize services. For delivery services, for example, it takes up to half a ton, an impossible capacity for a motorcycle", highlights Raul.
The Piaggio Apé combustion tricycles are powered by a liquid-cooled engine. In Apé Passenger, which transports three passengers and the driver, the plant has a cubic capacity of 230 cm³ and produces 12 hp at 4,500 rpm, 1.8 kgf.m of torque at 3,100 rpm, with a declared autonomy of 285 kg and of fuel with a capacity of 9.5 liters.
Piaggio Apé Post

Piaggio Apé Post

Piaggio Apé Post
Instagram – Facebook – YouTube – Twitter
The Apé Cargo comes with a 305 cm³ engine that delivers 14 hp at 4,100 rpm and 2.4 kgf.m of torque at 3,100 rpm, engine coupled to a 5-speed mechanical gearbox with reverse gear. Its load capacity is 557 kg. Meanwhile, the electric versions are equipped with an electric motor developed by the Brazilian company WEG, of 24 kW in the E-Cargo and 15 kW in the E-Passenger.
"We opted for lithium-ion batteries that provide a range of up to 90 km and recharge on the move when braking. For urban use, 30% of what is spent is regenerated during braking and the vehicle can be charged in a regular socket in up to 4:30 hours, depending on the voltage", concludes Maurício Fernandes, also managing partner of the group.
The post Piaggio Tricycles Arrive in Brazil by 2W Motors appeared first on Motociclismo Online .