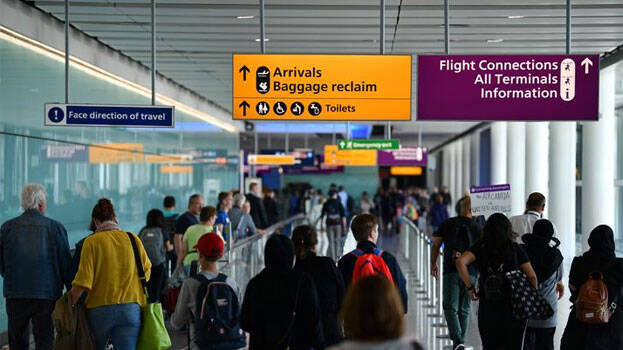 No Quarantine For Fully Vaccinated Indians Travelling To UK 11th October
Indians are completely vaccinated with Covishield or any subsequent UK-approved vaccine would not be quarantined on arriving in the UK starting October 11, the High Commissioner to India announced on the 7th of October, Thursday, to put a stop to a row over the implementation of COVID-19 quarantine norms, which were seen as unfair.
Alex Ellis, the British High Commissioner to India, tweeted on the 7th of October, Thursday. Check out the tweet below:
No quarantine for Indian 🇮🇳 travellers to UK 🇬🇧 fully vaccinated with Covishield or another UK-approved vaccine from 11 October.

Thanks to Indian government for close cooperation over last month. pic.twitter.com/cbI8Gqp0Qt

— Alex Ellis (@AlexWEllis) October 7, 2021
Thousands of Indian people who travel to the UK for jobs, education, and leisure were relieved by the decision.
What had happened earlier?
Covishield, an Indian-made version of the AstraZeneca vaccine that is identical to the doses given to millions of Britons, had been causing tension between the two countries for some time.
The United Kingdom had previously refused to recognize Covishield. As a result, completely vaccinated Indian travelers were still required to quarantine for 10 days and undergo Covid-19 testing procedures at their own expense before being released from isolation.
Despite repeated requests from the Government of India, the UK government refused to loosen up quarantine regulations for Indians.
Following outrage in India over what many referred to as a "discriminatory rule," the United Kingdom marked Covishield as an approved vaccine last month.
However, it did not add India to its list of countries excluded from quarantine, and travel bans remained in place. Many other countries likewise vaccinated visitors to the UK were not subjected to the same restrictions.
Delhi retaliated by enforcing a mandatory quarantine for completely vaccinated British nationals having to travel to India last week.
The Indian women's and men's hockey teams also had withdrawn from the 2022 Commonwealth Games in Birmingham, expressing concern about Covid-19 and the UK's 10-day quarantine regulation.
It was not entirely apparent when these decisions would be reversed. However, as a result of these decisions, India will soon relax its own.
Britain's ruling to relax travel bans for Indians emerges as daily cases in India have dropped from 400,000 as of may during a disastrous second wave to about 21,000 on the 7th of October, Thursday.
Approximately 26% of India's voting-age population has already been completely vaccinated, with nearly 70% receiving one dose.
Covishield, a vaccine manufactured in India by the Serum Institute of India, has been the most widely used vaccine, with 819 million dosages administered thus far.
The majority of the others were given Covaxin, an Indian-made vaccine that is yet to be approved by the WHO.
Grant Shapps, the Secretary of State for Transport in the United Kingdom, tweeted the following:
I'm also making changes so travellers visiting England have fewer entry requirements, by recognising those with fully-vax status 💉 from 37 new countries and territories including India, Turkey and Ghana, treating them the same as UK fully vax passengers. [2/3]

— Rt Hon Grant Shapps MP (@grantshapps) October 7, 2021
The UK, according to the spokesperson, is constantly reviewing efficacy information and data on vaccine buildout internationally, as well as visa rules to keep borders open while gradually and securely resuming travel.
Anywho, all's well that ends well.