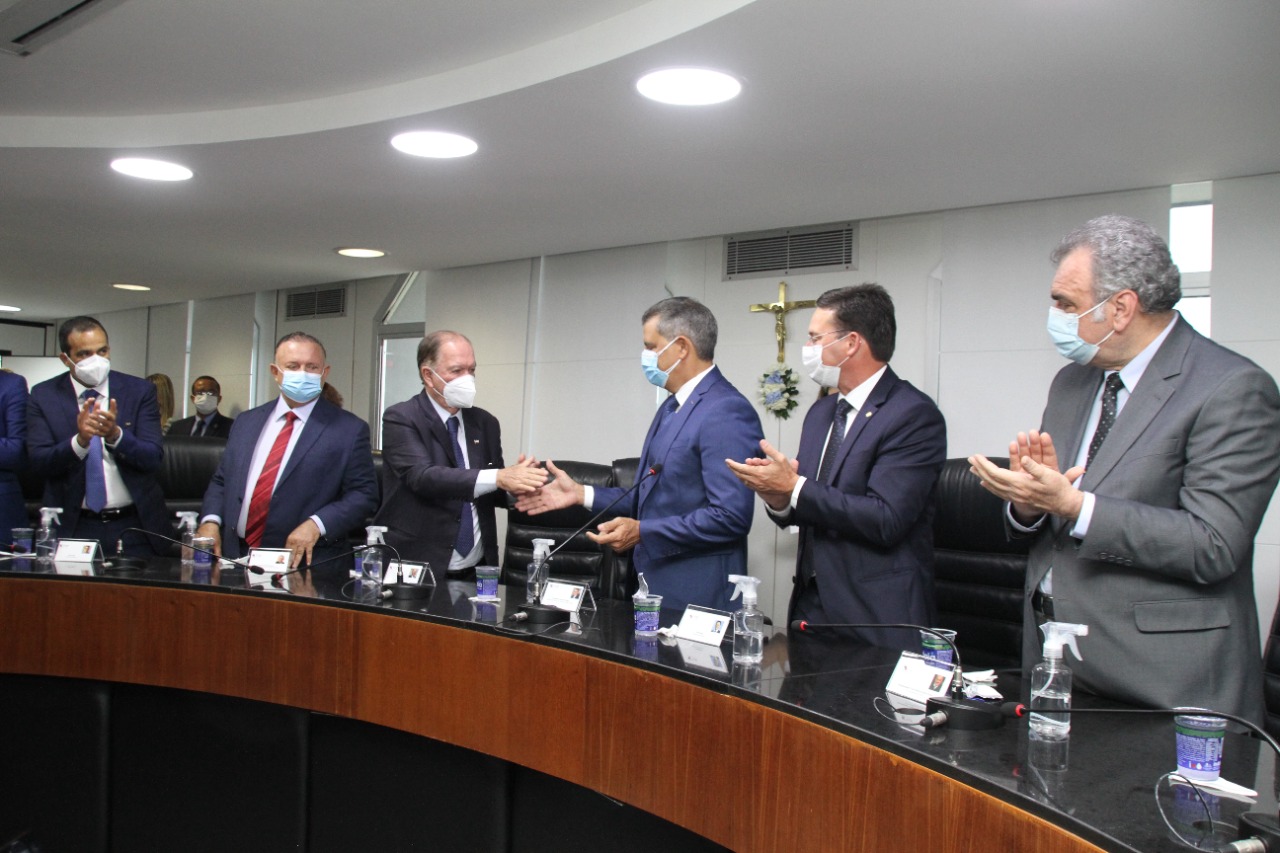 New board of the Court of Auditors of Bahia is sworn in for a term until 2023
The Court of Accounts of the State of Bahia (TCE-BA) is under new command. The board composed of President Marcus Presídio, Vice President Antônio Honorato de Castro Neto, and Inspector Gildásio Penedo Filho was sworn in on Wednesday (5) and is already responsible for the organ.
The ceremony was held at the court's headquarters, at the Bahia Administrative Center (Cab), in Salvador, and was attended by the main state authorities, such as the mayor of Salvador, Bruno Reis, and vice-governor João Leão, who represented Governor Rui Costa.
All went to the TCE to honor and show support for the 25th president of the Court of Auditors of Bahia, which has existed since 1915, and its board.
Projection of mandate
In his first speech as president of the TCE, Marcos Presídio spoke about plans for 2022 and 2023. "I think we have to move forward. We came from an excellent and brilliant management by the councilor Gildásio in recent years. Therefore, we don't need to change, let's move forward with what is already being done", said he, who has been an advisor to the TCE since 2015.
Also according to Presídio, the main agenda of the new administration is located within a project to strengthen the relationship between the court and citizens. "Our main objective is to bring the TCE closer to society and the citizen who, having the court as a partner, can be more active in the process of social control over public spending", he said.
Another highlight within the planning of the new direction is to intensify the body's guidance character, working with the state government and municipalities to avoid misuse of public money and consequent punishments. "Our philosophy is that guiding is better than correcting. We are going to improve the posture of only punishment, we want to reach the managers together at the beginning of the processes", he concluded.
good for cities
Mayor Bruno Reis approved of the philosophy and said that this type of approach is essential for municipal authorities. "Punishment must always be the last measure. If it can be oriented beforehand, it can indicate the paths and formalities that must be adopted, this guarantees the good application of resources and ensures that, at the end, projects happen", he highlighted Kings.
About the TCE, the mayor made a point of stressing the importance of the body for the good management of public money. "The court values the good application of resources, it is a guardian of society that guides, supervises and punishes those who make mistakes. With that, the cities and states win because, when the resources are well applied, they result in improvements and benefits", he explained.
*With guidance from deputy reporting chief Monique Lôbo