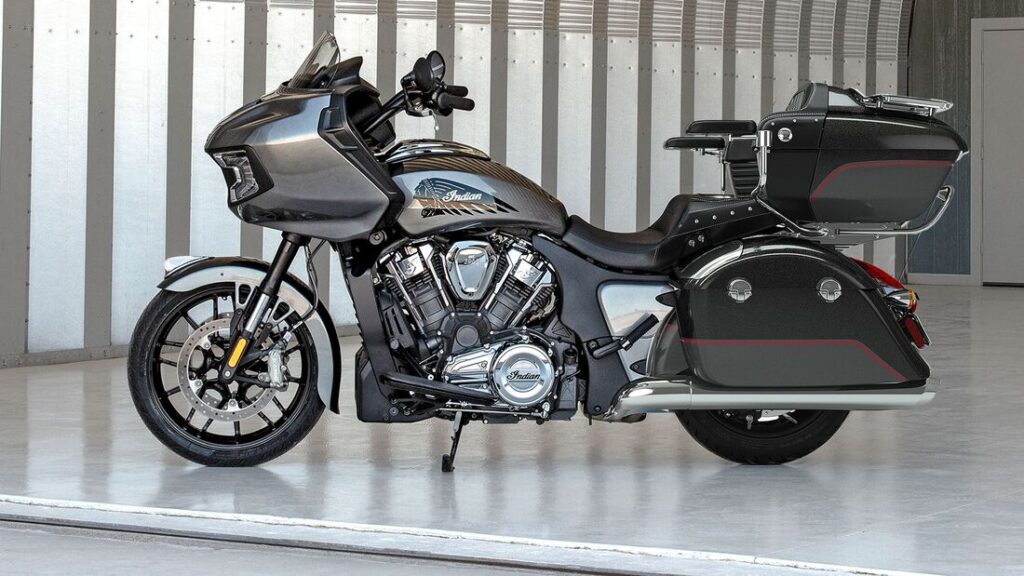 Indian Pursuit and Guardian have registered US patents
Indian has registered two new names in the United States: Pursuit and Guardian, nomenclatures that should give rise to a Grand Turismo and a Bagger that will probably be offered soon in the North American market.
The patent drawings don't clarify much, but let's try to unravel what we see. The images show an Indian with the Challenger's liquid-cooled engine, which has a cubic capacity of 1,768 cm³, generates 122 hp of power and 18.1 kgf.m torque, that is, extremely powerful.
In any case, the front is adorned by a fairing, which, however, does not come directly from the Challenger. The rear is devoid of bags and looking at direct competitor Harley-Davidson and its entire portfolio, there is no comparable model. Perhaps the most Pursuit-like HD models, if that will be the definitive name, are Street Glide and Sport Glide.
Read more:
Harley-Davidson brings Pan America to Brazil in the 2nd semester
Chieftain Elite Receives Special Edition for Indian's 120th Anniversary
Watch live, on video, the Golden Helmet ceremony this Friday
Machine characteristics
The approval data paints a different picture: the front of the Pursuit at 1444mm is taller than the Challenger, with a maximum of 1429mm. The Pursuit is even 100mm longer, but with the same wheelbase. In short, this indicates a Grand Turismo, which also refers to a greater weight of the Pursuit: 416 kilos in running order, therefore, 35 kilos more than the Challenger Limited. And so it is exactly between the Indian Roadmaster Limited, at 403 kilos, and the Harley-Davidson Road Glide Limited, this one at 423 kilos.
It is likely that both Pursuit and Guardian could also serve in US law enforcement. The police vehicles of Indian's biggest competitor, Harley-Davidson, are called the Police Road King, or Police Extra Glide in the US.
Instagram – Facebook – YouTube – Twitter
The post Indian Pursuit and Guardian have US patents filed appeared first on Motorcycling Online.