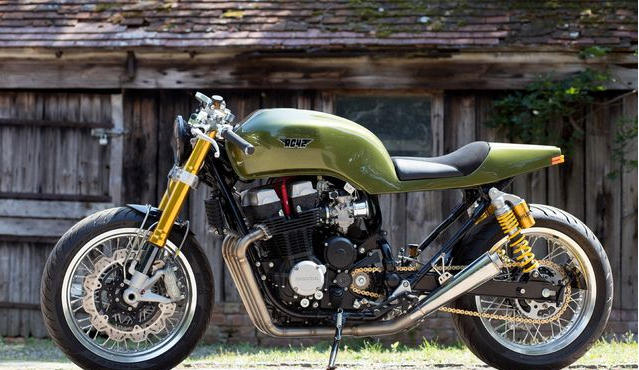 Honda CB750 gets awesome customization and name RC42
The last job of the British workshop BMG Cafe Racers was named 'RC42', in a full-detail customization done on a 1992 Honda CB750 . The design was commissioned by a customer who was eager to customize their 4-cylinder motorcycle.
BMG immediately decided to prepare a stylish update, exploiting the good condition of the engine and chassis to develop a cafe racer style with a more exciting look than the original.
In this way, the rear of the frame was shortened, which allowed to get rid of the huge tail with a two-seater seat to make way for a single-shock fairing considered the strong point of the RC42. Made from the original tank, a much more aerodynamic single-seater tail was produced, which helps to hide much of the electrical system and closes with an all-LED optical group with a futuristic cut.
Read more:
The G: Customization Honors Legendary HD Designer
Participate in the 23rd Golden Moto and compete for electric motorcycles!
BMW R nineT gets Dakar-inspired customization
Honda CB750 in new clothes
The new rear rear rests on a pair of high-quality, fully adjustable Ohlins shock absorbers, leaving a gap underneath, accentuating the bike's forward-projecting feel.
At the front is an inverted Showa fork taken from a Ducati and adapted to the Honda frame with the new triple calipers from Fastec Racing, the brand that also supplied the new hubs for the rebuilt rims. Great evolution also in the braking system, which at the front features a pair of radial Brembo calipers biting discs from EBC Brakes, and a caliper from Bergamo also at the rear.
Production is completed by the new all-LED circular headlamp, a stainless steel internal exhaust system and the right green and black paintwork inspired by an old Ford truck at the request of the machine owner. On the tank is the name of the bike.
Did you like this work done by the UK workshop? Stay tuned to our website as we always have publications showing custom motorcycles.
Instagram – Facebook – YouTube – Twitter
The Honda CB750 post gets awesome customization and the name RC42 first appeared in Motorcycling Online .