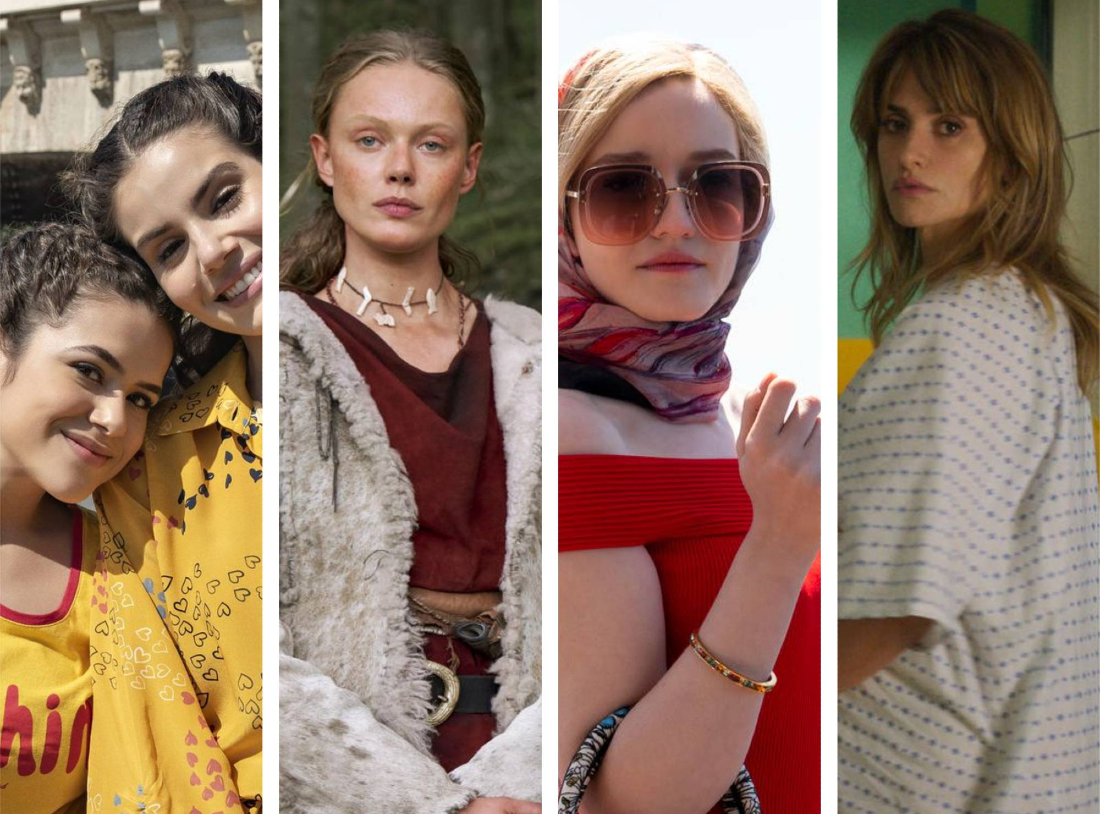 Find out what's coming to Netflix in February
SERIES
Back at 15 (2/25)
Inspired by the homonymous book by Bruna Vieira, with time travel and a lot of nostalgia, the series tells the story of Anita, who, at the age of 15 (Maisa), dreamed of growing up soon, leaving her small town and traveling the world. But, when she turns 30 (Camila Queiroz), she realizes that things are not quite as she imagined. When she returns to her homeland for her sister's wedding, disastrous events happen, and she takes refuge in the room where she spent her adolescence. Turning on her old computer, the protagonist is transported, like magic, to her first day of high school, in 2006. Now, she will try to fix the lives of everyone around her, but every change in the past impacts everyone's future – and not always for the better.

Ideas for Sale (9/2)
Commanded by the presenter and businesswoman Eliana, the reality show brings, in each episode, four entrepreneurs from the same sector, who will present and try to sell their products to the audience and the program's jury, in search of the prize of R$200 thousand for investment in the business. . Luana Génot, businesswoman and writer, at the head of activities to support companies and organizations for the structuring of anti-racist actions, is a permanent judge of the reality show and will have a special guest per episode to put the participants to the test. They are: Camila Coutinho, Luisa Mell, Leo Picon, Mariana Rios, Enzo Celulari and Carole Crema.

Dark Desire: Season 2 (2/2)
Alma (Maite Perroni) tries to rebuild her life after the events of the first season. Now divorced from Leonardo, she decided to take a year off college classes to attend a support group where she is trying to recover. Alma's fate takes a new and dramatic turn when she learns that a wedding is about to take place and it shakes her deeply: Darío is about to marry Julieta. Explosive encounters and a surprising tragedy will unleash a disturbing new game of illusions in which, once again, nothing is as it seems."

Making Anna (2/11)
Entrepreneur or Trickster A journalist investigates how Anna Delvey (Julia Garner) convinced New York's elite that she was a German heiress. Created by Shonda Rhimes, the series is based on real events.

One of Us Is Lying (2/18)
The detention brings together five extremely different students. But a murder and many secrets will keep this group together until the mystery is unraveled. Based on the eponymous novel by Karen M. McManus, the production features Mark McKenna, Marianly Tejada, Cooper van Grootel, Annalisa Cochrane and Chibuikem Uche in the cast.
Sweet Magnolias: Season 2 (4/2)
Together, friends Maddie, Helen and Dana Sue grapple with new relationships, old wounds and city politics. Sweet, salty and sour moments mix in their lives.
Space Force: Season 2 (2/18)
Under new command, General Naird (Steve Carell) and his dysfunctional and endearing crew have four months to prove that the Space Force is worth keeping alive.
Murderville (3/2)
In this improv comedy, eccentric detective Terry Seattle (Will Arnett) enlists the help of celebrities to investigate a series of murders. With guest appearances by Annie Murphy, Conan O'Brien, Ken Jeong, Kumail Nanjiani, Marshawn Lynch and Sharon Stone.
Blind Marriage: Japan (8/2)
In this romantic reality show, Japanese singles eager to marry fall in love and get engaged without ever having seen each other.
Toy Boy: Season 2 (11/2)
While Hugo (Jesús Mosquera) investigates the bombing, he and his friends deal with new adversaries and challenges at work.
Raising Dion: Season 2 (1/2)
Nicole (Alisha Wainwright) continues to raise Dion (Ja'Siah Young), who has a lot to learn about superpowers. With the child growing stronger, danger may be closer than they realize.
Blind Marriage: Season 2 (2/11)
It's time for a new group of singles and bachelors to look for love… without meeting each other in person. Will they leave in love or disappointed?
Vikings: Valhalla (2/25)
In this sequel to Vikings, 100 years have passed after the deaths of Ragnar Lothbork, Lagertha and Bjorn Ironside and a new generation of heroes emerges to forge their own destiny and make history.

The Apprentice – ONE Championship Edition: Brain and Strength (1/2)
Participants from around the world compete for a job in the ONE Championship sports media empire. To win, they will need brains and strength.
Love to Start Over (3/2)
After a life turnaround, Ola embarks on a journey of self-discovery while dealing with the challenges of raising two children and paying the bills.
Young Wallander: Killer's Shadow (2/17)
Kurt investigates a mysterious death that appears to be linked to a bombshell story, which was one of Rask's first cases in Malmö.
Catch the thief! (2/22)
This series combines all the craziness of classic cartoons with the fun of interactive choices. From the creators of Black Mirror.
FILMS
Parallel Mothers (2/18)
Two single mothers – Janis (Penélope Cruz) and Ana (Milena Smit) – meet in a hospital room and give birth on the same day. Their connection transforms their lives. Directed by Pedro Almodóvar.

Through My Window (4/2)
Raquel's crush on her neighbor turns into something more after he also starts to feel something for her, despite the family's objections.

The Texas Chainsaw Massacre: Leatherface Returns (2/18)
In this sequel, a group of young people decide to breathe new life into a ghost town in Texas, only to run into Leatherface, the famous chainsaw maniac.
Love with Fetish (11/2)
Love is a pleasant suffering for two co-workers who live a relationship full of games, pain and pleasure. Based on a webtoon.

Crush at Height 2 (11/2)
Jodi lands the dreamed-up starring role in a school musical, but the pressures end up undermining her confidence and derailing their relationship.
Rabbids: The Invasion – Mission to Mars (2/18)
An unusual group of Rabbids embarks on a mission to Mars. Now, they must unite to save the galaxy.
Madea: The Return (2/25)
Madea is back! And no patience to put up with the family dramas that threaten to spoil her grandson's graduation party.
Erax (2/17)
In this spooky short, monstrous creatures leap out of a magical book and turn the lives of Nina and her Aunt Opal into chaos.
Anne+: The Movie (2/11)
Under pressure to finish her book and move to Montreal for a relationship, a young queer woman tries to figure out what she wants out of life in Amsterdam.

Vengeance Blows (2/17)
A quest for revenge turns into a fight to save the world against an ancient threat when the powerful assassin Kai begins a chase across Bangkok.
What time does she come back (2/28)
Val (Regina Casé) is the faithful maid of a wealthy family. But the arrival of her daughter creates tension in the house and makes her begin to question that role.
Luccas Neto in: The Magic Hotel 2 (2/28)
Luccas Neto and Gi are invited by Camila to spend their holidays at a Magic Hotel. But they don't know that Mizinho Elf has a crazy plan for them!
DOCUMENTARIES AND SPECIALS
jeen-yuhs (16/2)
The lives of an emerging star and a filmmaker intertwine in this intense and intimate three-part documentary about the career of rapper Kanye West.
The Tinder Scam (2/2)
He pretended to be a diamond mogul, hooked up with women on the internet and stole millions of dollars from them. Now, some victims want revenge.

Freefall: The Tragedy of the Boeing Affair (18/2)
Investigators reveal how Boeing may have been responsible for two catastrophic accidents in a row by prioritizing profit over safety.
CHILDREN AND FAMILY
Cuphead – The Series (18/2)
Follow the misadventures of the impulsive Xicrinho and his naive brother Caneco in this animated series based on the famous video game.
Kid Cosmic: Season 3 (3/2)
The City Heroes become Earth's greatest champions and Kid's superhero wishes come true. But is there something wrong with this incredible adventure?
Gabby's Magic House: Season 4 (1/2)
New lessons and surprises with the usual kittens, including Floyd! Gabby leads the gang, while Pandy, Prowler, Cake, Baby Box and the others follow closely behind.
Ridley Jones: Guardian of the Museum: Season 3 (15/2)
Adventures in outer space, treasure hunts and new friends. Ridley and the gang have fun as they try to protect the museum from magical accidents – and from Mr. Peabody.
Dora and the Lost City (8/2)
The parents of this young explorer went looking for an ancient city of gold and disappeared. Now, Dora and her friends will try to save them.
ANIME
Child of Kamiari Month (8/2)
A year after losing her mother, a girl discovers that she must cross Japan for the annual meeting of the gods in the sacred land of Izumo.