Bitcoin has become not only well-known but also widely used in less than ten years. Bitcoin is being accepted by an increasing number of online and brick-and-mortar businesses.


With this in mind, Bitsgap allows you to connect all of your exchangers in one convenient location. This has a number of advantages, including the ability to easily execute arbitrage strategies and deploy advanced bots to trade simultaneously across various platforms. As a result, Bitsgap has grown to meet the diverse demands and expectations of bitcoin traders.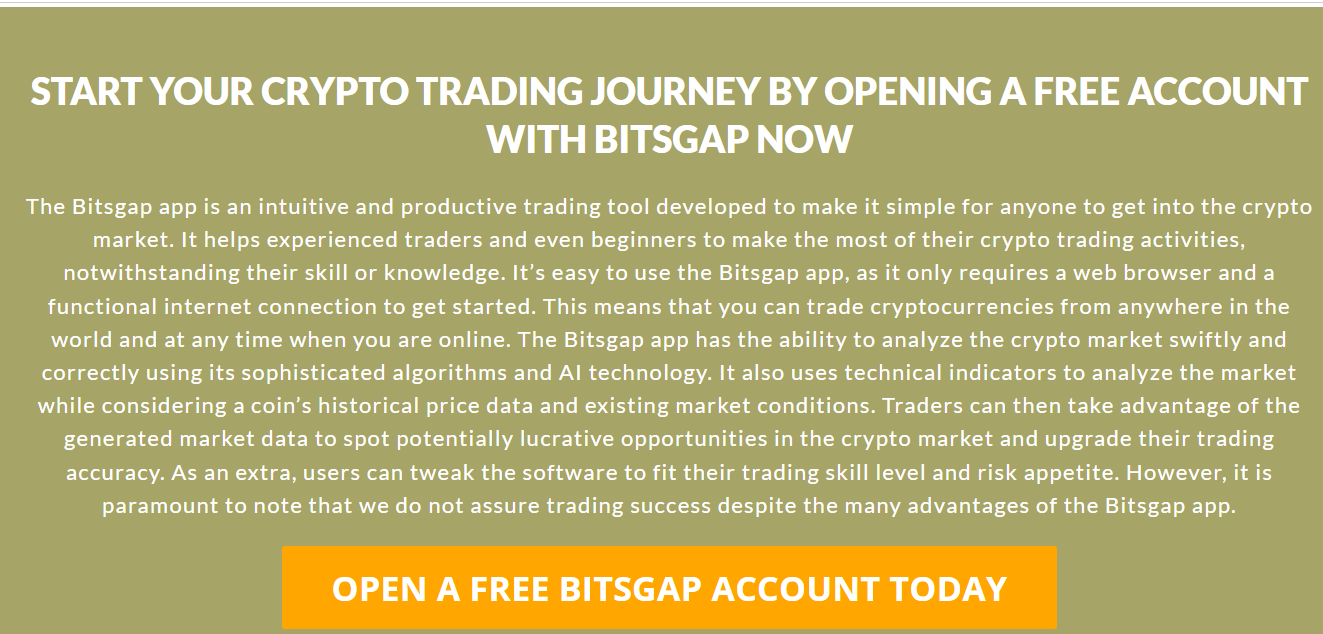 In this Bitsgap review, we look into everything there is to know about the provider's cross-exchange services.
What is Bitsgap?
Bitsgap is an all-in-one cryptocurrency trading platform that allows you to trade, maintain portfolios, use trading bots, send signals, and more. It also has over 25 major exchanges integrated, including Coinbase Pro, Binance, Poloniex, Kraken, Bitfinex, and others.
The sign-up process will take you no more than two minutes, as it simply requires you to verify your email address. Users can also use their Google or Facebook accounts to connect. Furthermore, Bitsgap offers a 14-day free trial during which the trader can take advantage of a number of advantages.
Is Bitsgap legitimate?
Many people's initial inquiry after discovering Bitsgap is, "Is Bitsgap a scam or legit?" A program that claims such high-profit returns on investment must have a catch.
According to our study, the software appears to be real and reliable thus far. Even so, you should always be cautious because you could still lose a lot of money. Always keep in mind that investing in a crypto trading bot does not guarantee that everything will go as planned. Due to the volatility of the crypto market, using a trading bot entails roughly the same risk as manual trading. Aside from that, you will almost certainly lose money if the market falls.


If you want to avoid any extra losses, you must set it up to trade the way you want it to trade, just like any other trading software. We can't say for sure if Bitsgap will provide you with a long-term source of revenue because automated trading software is a relatively new concept.
Many people feel that Bitsgap is a hoax because the signup process is simple, unlike many other trading bots. Easy registration, on the other hand, does not make it one. The fact that Bitsgap doesn't require your address, ID, or any other type of verification should be a plus. The quick registration process is designed to make things easier for users.
Important features of Bitsgap 
The interface is user-friendly and simple to use, in addition to its vast range of applications. This interface is not only simple to use, but it's also stylish and has a lot of advanced functions. The app is available for both desktop/laptop and mobile devices.


The option to switch between day and night modes is a cool feature of the interface that protects your eyes from weariness or becoming fatigued and watery.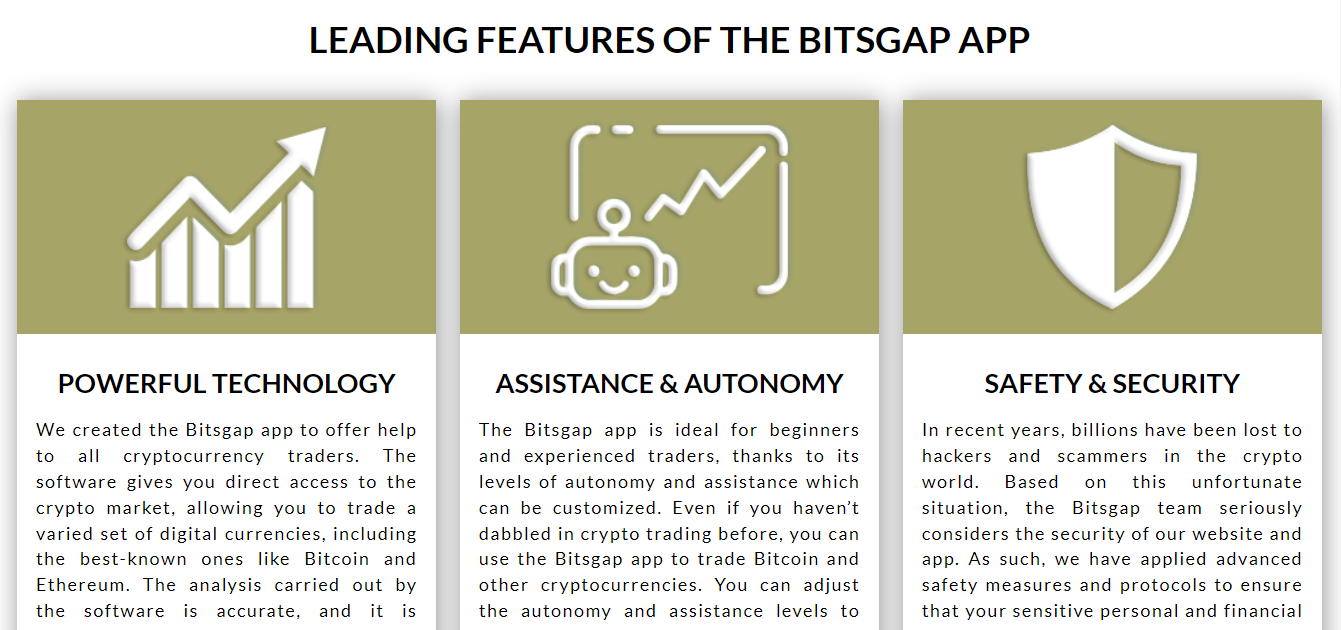 The functions are straightforward to use on either app version, according to its users. Even the more advanced functions are simple to use, which is a big plus for traders who don't have time to learn new tools.
It should come as no surprise that Bitsgap has a large selection of settings, all of which are meant to make trading, tracking, monitoring, and managing your cryptocurrencies easier.


While some settings may appear overly basic to seasoned traders, newcomers will likely wish to check the knowledge base and familiarise themselves with the platform before getting started. Before you use this type of system, you must be comfortable with it.
Security: Bitsgap's security procedures adhere to the gold standard (which all respectable trading bots utilise) set out by reputable trading bots. This platform also provides more services and features that will protect your account, which should come as no surprise.
To protect your information, you can set up two-factor authentication, which should be standard on these apps and typically is. Bitsgaps won't let you use the API unless you disable your crypto wallet's withdrawal mechanism. As a result, you're well-protected against evil intent.
Before submitting a support ticket, see the Bitsgap knowledge base. Email support is included with all levels, however the Advanced and Pro Packages also feature priority support.
If you've ever traded on a cryptocurrency exchange, you're well aware that exchanges prioritise liquidity over giving the greatest trading tools.


That's why Bitsgap focuses on giving traders the greatest crypto experience possible. Bitsgap is a trading terminal that allows you to trade on numerous crypto exchanges from a single interface.
When making market orders, trading instruments such as taking profit, shadow orders, limit market, and stop-loss provide you an advantage.
The Bitsgap backtesting tool actively optimises pre-configured trading bots for bull (uptrending) and bear (falling) markets. To enhance revenue and avoid risks, the team employs machine learning by examining and analysing past data. Traders can choose from a variety of trading pairs based on their trading history and bot performance.
Bitsgap is a website that watches cryptocurrency prices across different exchanges and displays arbitrage opportunities.


Traders can take advantage of these opportunities and profit from crypto arbitrage.
When executing an arbitrage, Bitsgap allows you to search for different cryptocurrencies and assign a balance.
Conclusion
In Crux, Bitsgap can be described as an all-rounder platform with automated trading algorithms that create a steady stream of revenue regardless of market conditions. Not to mention the other features like stop-loss, take-profit, exit strategies, and trailing up that assure your safety and increase your ROI (Return-on-investment). Furthermore, its security is top-notch, and it offers excellent customer service.
FAQs
Is Bitsgap a reliable and secure service?
Yes, Bitsgap is a secure and legitimate service. The team has put a lot of effort into developing its trading platform.


Is there a Bitsgap app on mobile?
For the time being, Bitsgap does not have a mobile app for iOS or Android. Bitsgap, on the other hand, provides a completely responsive website that you can view on mobile browsers.
Does Bitsgap charge any commissions on trades?
No, there aren't any trade fees. You only have to pay a monthly subscription fee to utilise the platform's beneficial tools for more efficient crypto trading and management.